Lynx Dark Temptation Body Spray XXL
48 hour odour protection, a blend of dark chocolate to awaken the senses.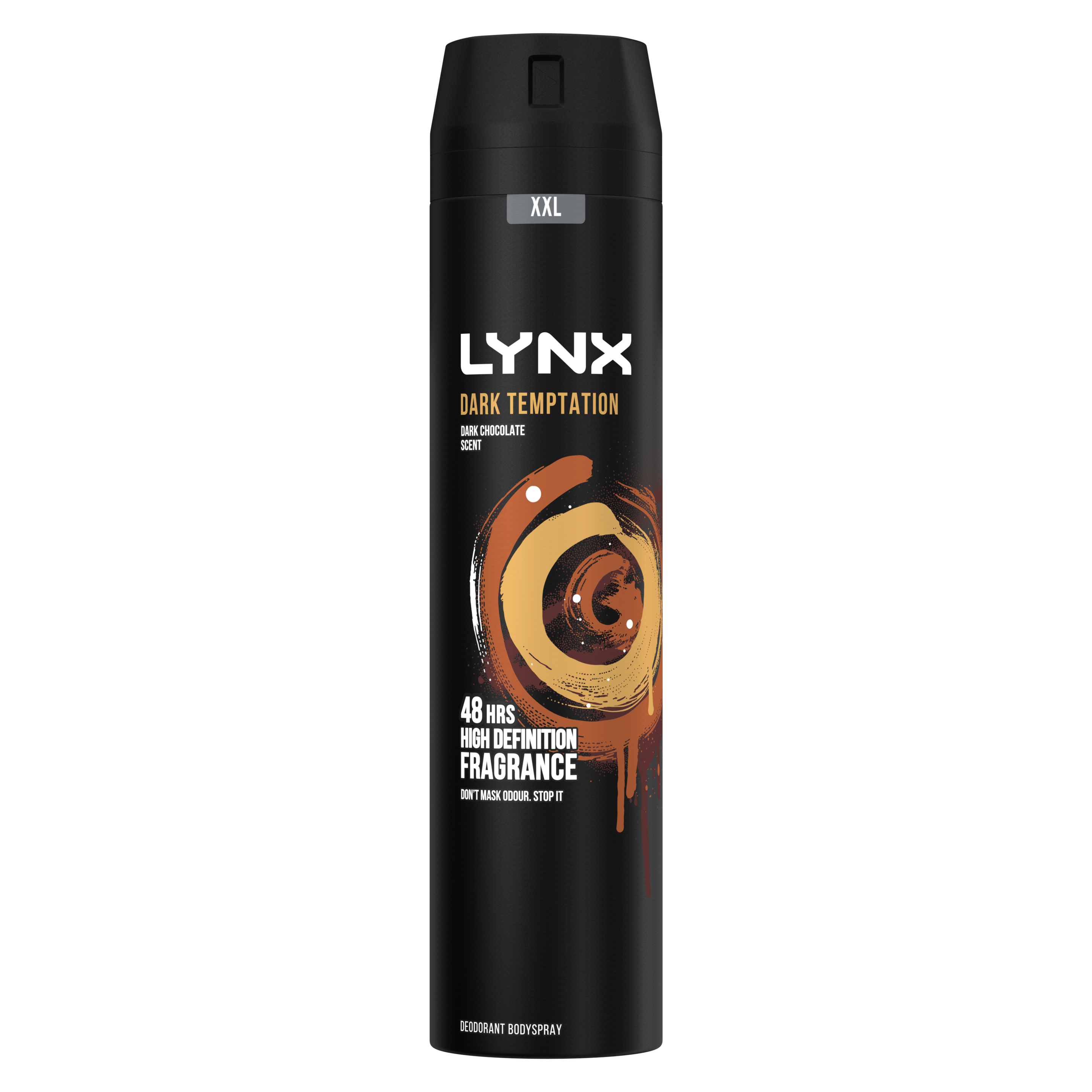 Be ready to give in to any temptation with LYNX XXL Dark Temptation Bodyspray. You never know what's around the corner. Or who. Featuring a smooth dark chocolate scent that's impossible to resist, LYNX XXL Dark Temptation gives you 48 hours of odour protection with our revolutionary dual-action odour-busting zinc technology, keeping you smelling awesome and feeling chill, all day. This is the type of chocolate that won't melt away when things get hot. You never know when opportunity will strike, so you need a bodyspray that's going to keep you smelling iconic and feeling confident no matter the circumstances. With its 48-hour high-definition scent, LYNX Dark Temptation spray deodorant has got you covered. All. Day. Long. This aerosol bodyspray fights odour-causing bacteria so you can avoid odour and smell irresistible for 48 hours, and have the confidence to be the best version of the only thing you can be – yourself. Same classic LYNX Dark Temptation scent, fresh new look. This great smelling LYNX deodorant spray comes in an infinitely recyclable can – fresher you, cleaner planet. How to use it? Shake, twist and spray that tempting freshness across your chest for a sensual blast of chocolatey sweetness and spice. By 2025, LYNX aims for all our packaging to be recyclable or to include recycled materials. Welcome to the future. It smells amazing. LYNX. 
Alcohol Denat., Butane, Isobutane, Propane, Parfum, Zinc Neodecanoate, Isopropyl Myristate, Amyl Cinnamal, Citral, Citronellol, Coumarin, Limonene, Linalool.